Operators



Main Defenders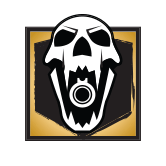 Main Attackers
About
Hey all!
About Me:
Age: 18
Gender: Male
I'm a very competitive player, I take ranked and anything related to it very seriously. I want to strive to be the best and I'm willing to put in as much work as possible to get there.
I do work throughout the week and have online school as well. If I were to be invited to a team, this would be a factor we would have to work around.
Game background:
Over 600h
K/D: 1.2
Trying to get to the next level competitively
Pretty aggressive playstyle, I tend to flex/support.
I have a lot of history with FPS's. I was Masters on BO2 (at age 12 lmao), MG on CSGO, and Gold on Overwatch. Looking into transitioning fully into this game.
Goals/Wants:
Looking for any group to grind with, whether it is a team, duo, trio, etc.
Want to eventually hit platinum, diamond, then beyond!
Details
Rank
Gold II
Social
Member Since
Apr 27, 2019